Birthday Parties - We offer a fantastic venue to host
a birthday party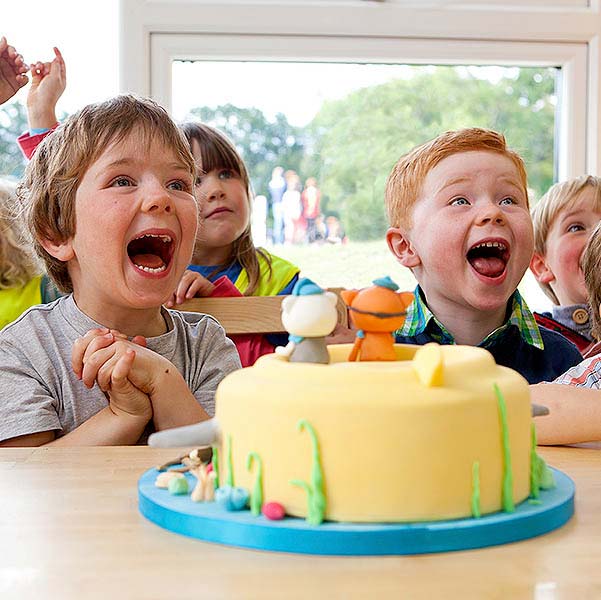 Our BRIARLANDS PARTY* is available for a minimum of 10 children (aged 2 and over) at £14.50 per child and offers
A birthday party helper
Unlimited playtime outside in the Fun-yard
Personal Animal Handling session
Tractor and trailer ride (birthday guests and supervising parents
Birthday picnic boxes – choice of half sandwich cheese, ham or jam; carton of orange or apple juice; packet of Pom Bears, packet of raisins, chocolate Freddo
Adult guests are free of charge for admission to Funyard (If space, tractor ride may be booked for £1.75 per person)
Reserved birthday party area for 2 hours
You are welcome to bring decorations, party banners and bags if you wish – don't forget the cake!!
Times available 10.00am – 12 noon; 12.30 – 2.30pm or 3.00 – 5.00pm
To book, please call 01786 841309 – we only take a £20 deposit to reserve your special time and date.
We suggest a max number of 20 kids for this party package.
* Members will receive a 10% discount (excluding extra catering options)
Our THUNDERDOME TUNNEL is available for a 2 hour hire at either 11am – 1pm or 2:00pm – 4:00pm for £20.00 this allows you to host your own party.
Party visitors are welcome to join main animal handling sessions
Party picnic boxes (as above) can be arranged at £4.75 per person – these are pre ordered and require collection from the cafe at an agreed time.
Tractor ride is NOT included but may be booked

subject to availability

at £1.75 per person.
If bringing more than 10 kids group rates apply for children over 2 years and adults. (£6.75 per child & £4.25 per adult). If under 10 kids you will be charged our normal admission rates.
6 adults free of charge.
Members do not receive any discount with this option.
We do not specifically hold parties for under 2's since we do not charge for this age, however, if desired, we have a minimum charge of £145 for the use of the party area, to include party picnic boxes for 10 children. This is based on party guidelines of minimum 10 children at £14.50 per person.